As a retailer, you are constantly searching for new and innovative ways to stand out from the competition and attract customers. In today's rapidly evolving retail landscape, digital signage has become a powerful tool for businesses looking to improve their customer experience and increase brand engagement. Digital signage has the potential to transform the way you communicate with your customers and promote your products. This comprehensive guide will delve into the key benefits of digital signage for retailers, explore best practices for getting started, and provide tips and tricks to help you succeed with your digital signage solution.
Benefits of Digital Signage for Retailers
Increase Customer Engagement 
Using digital signage in retail spaces offers many opportunities to engage customers and enhance their shopping experience. From interactive displays to product demonstrations and customer feedback mechanisms, digital signage can be strategically placed in high-traffic areas to communicate your brand message and increase engagement effectively. Using high-quality images and videos, digital signage can grab customers' attention and help to reinforce your brand's visual identity.
Moreover, digital signage surveys provide businesses valuable customer feedback that enables data-driven decision-making, boosts customer loyalty and perception, and drives growth. Incorporating digital signage surveys can take your business to the next level by providing insights to enhance your operations and increase growth. So, to take your business to the next level, consider implementing digital signage surveys to gather valuable customer feedback and drive growth.
Improve Product Visibility 
At its core, digital signage is an innovative platform for retailers to promote and sell their products in an eye-catching and dynamic way. It offers customers a visual display of product information, such as details, prices, and promotions, and it also provides an opportunity for interaction and engagement, with the ability for customers to interact directly with the display through touch screens or other interactive features, the shopping experience is elevated to a whole new level. This enhances the customer experience and can boost sales, making digital signage a valuable tool for any retailer looking to drive success.
A case study conducted by Vistar Media in partnership with Foursquare found that a targeted digital out-of-home (DOOH) advertising campaign drove over 530,000 store visits, resulting in a 6.51% lift in store visitation compared to non-exposed customers. The study showed the effectiveness of using highly targeted DOOH to acquire new customers, with nearly 20% of customers visiting Target stores within one day of exposure. The results also revealed that adults aged 55+, women, and consumers with a college education were more likely to visit the remodeled Target stores after exposure.
Real-Time Communication
Digital signage allows retailers to share crucial updates with their customers instantly. Say goodbye to static, outdated posters and hello to dynamic, real-time information such as sales, promotions, new arrivals, and store hours. With digital signage, you can personalize and refresh your content to better reflect your brand and attract customers. Whether you want to showcase seasonal promotions or announce the launch of new products, digital signage makes it easy for you to keep your customers engaged and coming back to see what's new.
According to Scott Schoeneberger, the managing partner at Bluewater, in an article about keys to success in a rapidly changing DOOH environment, one of the critical benefits of interactive digital signage in retail is its ability to educate and inform customers about products. Whether it's explaining the differences between two products or demonstrating how to use a new item, interactive displays can be an effective tool for driving product sales. The interactive elements can also entertain and engage customers, creating a positive brand experience that can be particularly valuable when some customers may be hesitant to ask for help or are accustomed to online shopping, even in a physical retail environment.
Collect & Analyse Data For Better Targeting
With interactive features, you can gather insights into their preferences and behaviors. This information can help you make informed decisions for future marketing campaigns. For instance, you can use digital signage to showcase products that appeal to specific customer segments, like women for fashion or men for tech. You can also track customer engagement and gather data on what's popular. 
Megascreen's partner, Neirolis, utilizes RTMIP (real-time media identification platform), a video analytics software that uses state-of-the-art algorithms to capture, process, and analyze data from video feeds. With its unique face recognition neural network, the software can identify individuals with an accuracy rate of up to 99.7% and a verification accuracy rate of up to 99.9%. It can also process large amounts of data at high speeds, handling millions of different faces and searching through billions of photos in less than 0.1 seconds. 
The technology can be an invaluable tool for digital signage, as it allows businesses to collect data on the behavior and demographics of their target audience, enabling them to tailor their marketing strategies and improve customer engagement. By utilizing RTMIP, businesses can gain valuable insights into consumer behavior, which can help them make data-driven decisions and improve the effectiveness of their digital signage campaigns.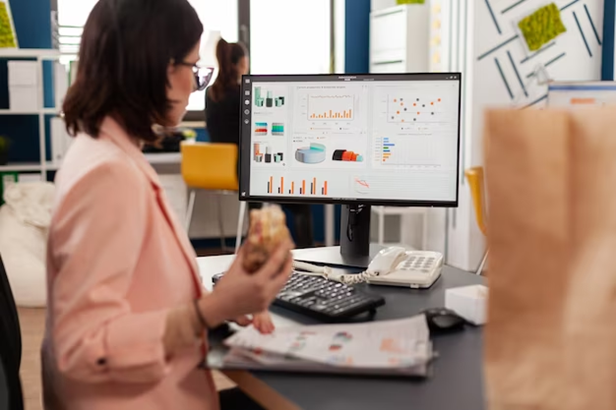 Getting Started with Digital Signage
Digital displays can help you attract customers, promote your products, and enhance your brand image. But how do you know which one is right for you? Here are some steps to help you find the perfect digital display solution for your business.
Step 1: Set Your Goals (What Do You Want to Achieve?)
Before you start shopping for digital displays, you need a clear idea of what you want to accomplish with them. What is your main message? Who is your target audience? How do you want to measure your success? Having specific and measurable goals will help you narrow down your options and choose the most effective digital display solution for your business.
Step 2: Assess Your Space (Where Will You Place Your Display?)
The next step is to consider the physical aspects of your store. How much space do you have? What is the best location for your display? How will it fit with your store's design and layout? You'll want to choose a display that matches your space and maximizes your visibility. You'll also want to consider your display's resolution, brightness, and durability, as these factors will affect the quality and longevity of your digital signage.
Step 3: Pick Your Solution (What Type of Display Do You Need?)
Finally, you'll need to decide what type of digital display solution suits your needs and budget. There are many options available, from simple plug-and-play displays to complex custom-made systems. You'll want to compare each option's features, benefits, and costs and see which offers the best value for your money. You'll also want to consider your digital display solution's ease of installation, maintenance, and updates, as these will affect your user experience and satisfaction.
Conclusion
So, there you have it – the ultimate guide to getting started with digital signage solutions for retailers. We hope this guide has provided valuable insights and actionable tips to help you maximize your digital signage investment. Remember, with the right hardware, software, content, and ongoing maintenance, and you can create an immersive and unforgettable shopping experience for your customers. Don't be afraid to experiment, iterate, and refine your digital signage strategy over time, and above all, have fun with it! With digital signage, the possibilities are endless, and the rewards are endless too.